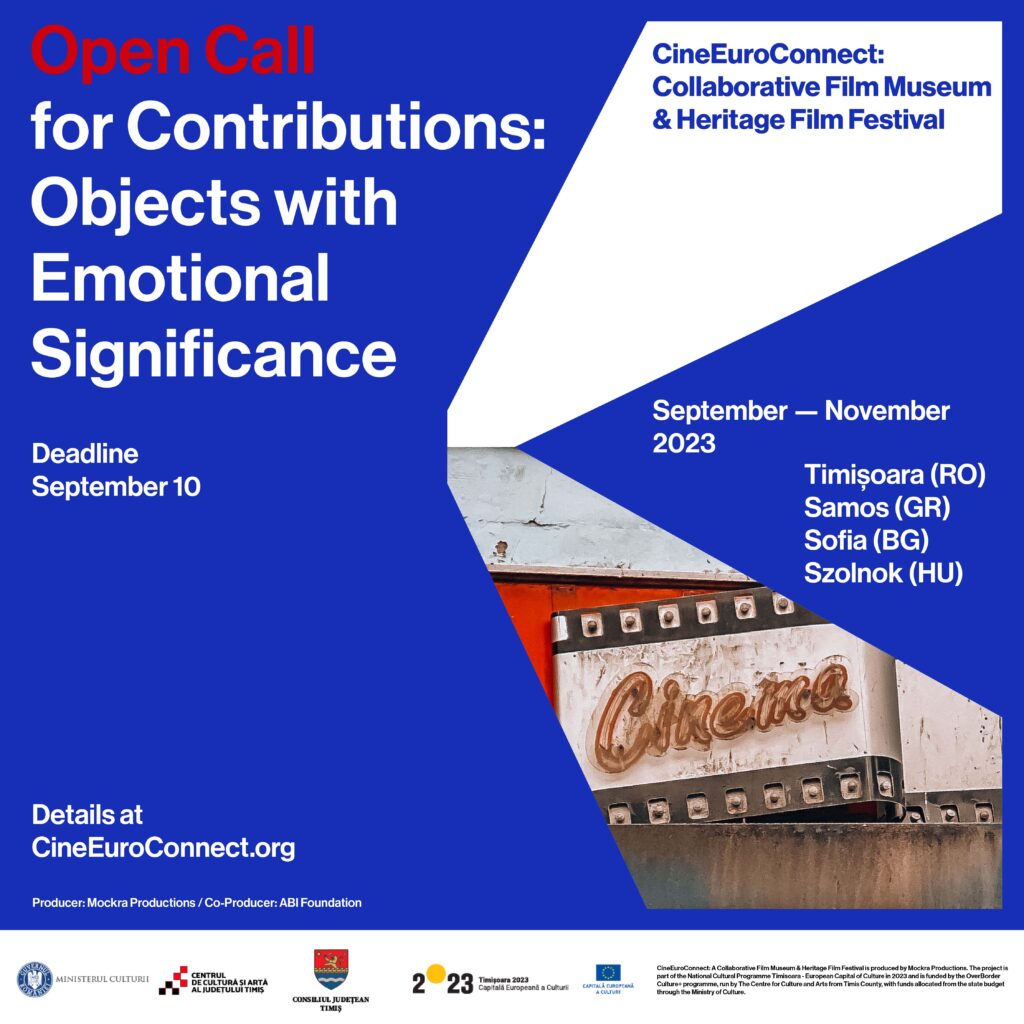 Open Call for Contributions at CineEuroConnect: A Collaborative Film Museum & Heritage Film Festival (August 31st – September 10th)
Dear cinema and visual arts enthusiasts from all across Europe,
With enthusiasm and joy, we invite you to take part in a captivating and unprecedented experience. You are welcomed to share personal items that reflect your passion for cinematography, accompanied by stories and personal reflections. Our objective is to build a diverse exhibition that showcases the profound impact that cinema has on each individual, highlighting at least 30 significant stories.
We acknowledge that each one of you holds a unique story and a special connection to the world of film. Whether it's a meticulously preserved movie ticket, an autographed poster from your favorite actor, a heartfelt letter from a director, or an artistic creation inspired by films, each object carries not just its material value, but also memories, emotions, and visions.
This open call isn't just an invitation to contribute to an exhibition; it's also an opportunity to share your stories with a wider audience. Through this exhibition, we aim to bring together stories that transcend geographical, cultural, and linguistic boundaries, emphasizing the universal power of cinema to connect people from all corners of the world.
Through each object and story, we will create a captivating panorama of our shared passion for cinema and demonstrate how it can influence and shape our individual perspectives and experiences.
Exploring the Story of Cinema – A Time Capsule

Within this initiative, we encourage you to contribute with items that hold special significance for you within the context of film. These personal items are fragments of your own story, and we aspire to showcase them, share them with others, and display them within the CineEuroConnect: A Collaborative Film Museum & Heritage Film Festival.
Examples of potential objects:
Vintage Film Tickets: Tickets or entry passes to screenings that left a significant impact, accompanied by stories of memorable experiences.
Collector's Memorabilia: Souvenirs related to films or famous characters, such as figurines or autographed posters.
Old Books and Magazines: Vintage publications about cinematography or interviews with directors and actors, accompanied by comments on how they influenced your perspective on films.
Behind-the-Scenes Memories: Personal photographs from film sets, festivals, or encounters with industry personalities.
Clothing or Accessories: Garments or accessories worn with emotion during special screenings.
Letters: Messages received from directors, actors, or other industry professionals.
Handmade Objects Inspired by Films: Handcrafted creations inspired by favorite movies, like paintings, sculptures, or jewelry.
Vintage Technical Equipment or Accessories: If you're a collector, amateur or professional filmmaker, you can contribute with old equipment or relevant accessories from your journey.
Film Festival Souvenirs: Promotional materials or memorabilia from film festivals you've attended.
Personal Items with Emotional Significance: Objects that remind you of special cinema-related moments or carry deep personal meaning in the context of films.
Awards or Distinctions: If you've received awards or distinctions in the field of film, these could be significant objects for the exhibition.
These are just a few ideas, and your creativity knows no bounds. Each object and personal story attached will contribute to the creation of a significant exhibition.
A Step Towards Knowledge
The selected items will become part of a collaborative project that intertwines visual arts and cinema in an innovative way. This exhibition will debut physically in Timișoara, with a preview in Samos, and a small itinerary exhibition will also travel to Sofia and Szolnok, offering a European perspective on art and cinema. It will also exist in the form of a virtual gallery at: www.CineEuroConnect.org
Participation and Recognition
Objects will be chosen by a committee of curators and the artistic director, and those selected will have the chance to appear in a documentary produced as part of the project. Furthermore, they will be acknowledged on the project's website and in the physical exhibition, rewarded with a certificate as a donor/supporter member of the collaborative museum.
Your Contribution to the Global Narrative
Through your contribution, this project nurtures empathy and critical thinking, and facilitates active involvement in building a more connected society. We are proud to invite the international community to bring new perspectives to the universe of cinema and together create a cinematic Time Capsule.
How to Participate:
Submission deadline: September 10th
Submission method: Send an email to [email protected] with the subject "Contribution for CineEuroConnect" containing photographs of the object, details about its material and size, a personal story highlighting your individual connection to cinema (maximum one page) and a short bio of the contributor as she/he would like to be posted on the curatorial material.
Mentions: Selected objects can be loaned for the period of September to November, or they can be donated, thus remaining in the permanent exhibition of the project. Objects should be relatively easy to transport, with the cost of transportation for selected items covered by the organizers, latest shipping date must be September 19.
For any questions or additional information, please contact us at the email address: [email protected].
We eagerly anticipate exploring your stories through this captivating journey together.